Unique Pet P
hotography That Makes Your Heart Sore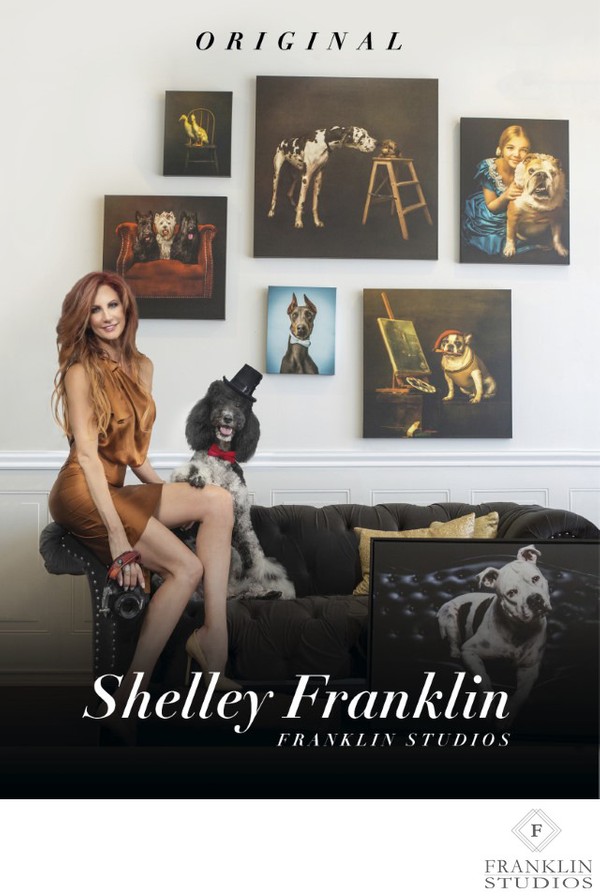 Pets are a huge part of our families. Your pet can be part of your photo shoot, or you can celebrate them with their own celebrity style photo shoot with up to 4 looks. Franklin Photography Studios has received International acclaim for our quirky and creative pet photos. Our work is being used to decorate the DC Animal Ranch Hospital in Scottsdale, and word about our pet photography is starting to pop up in some pretty unexpected places!
If you want to feature your furry friend in a photo, there's no better place to have them photographed! Creating really adorable and beautiful images of other people's pets is what we do best!
Artwork of animals is everywhere, and its no wonder why. Animals in general make people smile. Why not have your own beloved pet photographed and let us create one of a kind artwork for your home? We can create simplistic canvases or arrange for elaborate framing of your photos, depending on the budget and style that works best in your home. If you're not sure what will look best, we offer in home
consultations and can create mock-ups of your rooms to show you exactly what your options are.
If you'd like to have your family photographed with your pet, we're happy to accommodate you!
You can see more about our family photography here: https://www.franklinphotographyaz.com/portrait-gallery/family-photos
Franklin Photography Studios Proudly supports local animal rescues and charities. 2018 & 2019 Sponsor of Forever Loved Pet Sanctuary in Scottsdale. If you would like information on how Franklin Photography can assist your local pet charity please contact Shelley@FranklinStudiosaz.com
Franklin Studios is located at 10810 East Via Linda Suite 105, in Scottsdale and serves the greater area of Phoenix, Arizona
CONTACT US:>Shelley@Franklinstudiosaz.com | 480-221-2851